Locust School
Photo submitted by Shari Sisney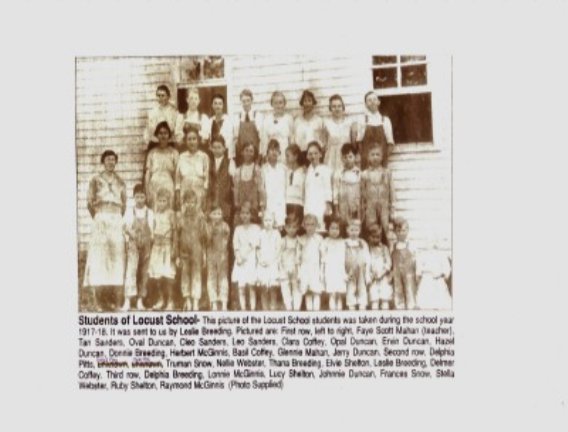 This photo was thought to be 1917/1918, but based on the age of some of the children it should be 1921/1922 or so.

First row left to right: Faye Scott Mahan teacher, Tan Sanders, Oval Duncan, Cleo Sanders, Leo Sanders, Clara Coffey, Opal Duncan, Ervin Duncan, Hazel Duncan, Donnie Breeding, Herbert McGinnis, Basil Coffey, Glennie Mahan, Jerry Duncan.
Second row: Delphia Pitts, Della Pitts, Clyde Pitts, Truman Snow, Nellie Webster, Thana Breeding, Elvie Shelton, Leslie Breeding, Delmer Coffey.
Third row: Delphia Breeding, Lonnie McGinnis, Lucy Shelton, Johnnie Duncan, Francis Snow, Stella Webster, Ruby Shelton, Raymond McGinnis.
The picture was donated by Leslie Breeding to whatever publication this came from.