Price Place School
Photo submitted by Shari Sisney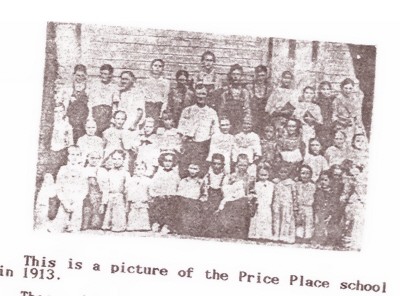 Top Row from left: Elmer Hollingsworth, Early Terry, Ralph Mefford, Lizzie Trimble, Frank Chapple, Buna Johnson, John Hollingsworth, John Pruitt, Roy Campbell, Eva Sisney, Carrie Shaw, Alta East, Myrtle Burgess.
2nd Row: Tom Mefford, Letha Owen, Beatrice Trimble, Eunice Hollingsworth, Effie Burgess, teacher Bob Rea, Flora Shaw, Ida Sisney, Mary Willbanks, Myrtle Willbanks, Grace Shaw, Jane Sisney, Lucy Mefford. Front Row: Jess Willbanks, Clarence Collins, Albert Hollingsworth, Travie (Tronie) Johnson, Alscy Hollingsworth, Ted Willbanks, Ervin Johnson, Ernest Shaw, Tom Owen, Esther Owen, Eliza Sisney, Hazel Willbanks, Italy Willbanks, Vina Willbanks, and Sadie Collins.
The Sisney girls were children of Stephen Sisney and Nancy (Brundage) Sisney.
The Price Place School was located about 3 and a half miles south of Pontiac, Missouri and about 3 miles north of Oakland, Arkansas, Between North Fork and Spring Creeks. The original one room frame school was constructed in 1894. The size of the school building appeared to be too large for the number of students attending in 1927. The original was torn down and replaced with a smaller one room building on the same site. It was also a frame structure with a wood burning stove for heat. When the 1st building was being raised the women used the discarded boards to kindle the cook stove fires. The 2nd building served the area until the 1940's when it consolidated with other county schools.
Teacher Bob Rea taught 5 years there.